Striped Wallpaper – Fits In With Any Style
Striped wallpaper is a wonderful way to add dimension to a room especially a small room. Stripes usually give an appearance of height when hung vertically and can elongate a room if hung horizontally.
Decorating with stripes can create a classic traditional look or just as easily create a modern contemporary look. It all depends on the width of stripe and how you use them.
Striped wallpaper will look elegant if you choose a tone on tone colour scheme such as cream with white or if you use a matte and glossy version of the same colour. This look is classic and sophisticated especially when the stripes are the same width. You can see an example of this below with the use of wide vertical stripes in cream and white.
Striped wallpaper will also effortlessly create a very contemporary look just by using contrasting colours, bright bold colours and in varying widths.
Stripes are a feature within themselves so it's best to avoid colours that clash. You want an edgy look but not cluttered and busy.
The size of the room is important when decorating with stripes. A larger room requires wider stripes. Thin stripes in a large room just creates a cluttered distracting look as the lines will tend to blend together. Wide stripes in a small room become overwhelming and lose their impact.
Stripes are quite neutral when it comes to patterns. They work well in any style or size of room. Stripes mix beautifully with solids, florals, and other patterns which means they can be incorporated just about anywhere. They can be used in a feminine way by choosing soft feminine colours or used in a masculine way for a bachelor pad by using strong colours such as charcoal, greys and caramels etc.
If you're dying to redecorate and want to try experimenting with pattern then striped wallpaper is always a safe choice. We have found sophisticated black and white striped wallpaper to be especially popular and does give an instant "wow factor" feel to any area.
Albany – Albany Collage 2012 Collection – Romance Stripe
A hand painted effect stripe design. Showing in red and grey on a shimmering cream background – more colours are available.
Albany – Albany Venice Collection – Clare Stripe
Heavy weight Italian vinyl with a multi width stripe design – shown in the silver grey with a raised dot texture and black with a lustre fabric effect.
Julien Macdonald – Fabulous Collection – Glitz
A beautiful statement stripe that glimmers in the light. Stripes are always in fashion and this elegant stripe design by Julien Macdonald is just the thing to add a touch of luxury to your interior. These bold stripes have a glittery finish that adds just the right amount of panache to this stripe design. The embossed texture also means that the surface is durable and washable giving you style substance and ease of use. Available in beige/purple, beige/cream and grey/cream.
Clarke and Clarke – Floribunda Collection – Ferdinand
A fresh design featuring a classic stripe with decorative border alternating with a white stripe. Available in 7 colours, aqua, charcoal, citrus, magenta, mineral, orchid and taupe. Shown here in the mineral colour.
Arthouse – Zen Collection – Tranquility
A sophisticated two tone bold stripe in a fine pearlescent sand texture and lustre effect.  The glitters within the design add that perfect touch of shimmer. 4 colour variations including cream on cream, stone and beige, silver and grey, aqua.
Albany – Designs For Living Collection – Akina
Akina Stripe is a stylish modern textured vinyl striped wallpaper. Featuring a solid raised stripe and a series of smaller pinstripes which are highlighted in glitter.  Shown below in purple and cream but also available in black and white, green and cream, red and cream, teal blue and white, chocolate brown and cream.
 Alhambra – Bam Bam Collection – Bam Bam
A sophisticated children's 3 tone stripe design wallpaper. It's fresh and young, perfect for any age child in red and blue with a cream stripe inbetween.
Prestigious Textiles – Jet Set Collection – Jet Set
This is a great design especially suited to a child's room featuring an eye-catching thick version of a barcode stripe. Available in exciting eye catching colours.
Clarke and Clarke – Viva Collection – Sofi
A sophisticated stripe design with bold colouring. Other colours in the collection all feature a mixture of beautiful latte colours.  Shown below in purple, lime green and pink with a thin gold stripe in-between colours.
Holden Decor – Flock Collection – Laquita

A traditional style stripe in black flock alternating with silver grey metallic stripes with a woven texture. Also available in beige.
Opus Muras – Bloomsbury Collection – Henley Stripe
A stunning and sophisticated wallpaper in a two tone striped design in bold black and white. Henley Stripe features a matt white stripe alongside a shimmering rich black stripe.
Opus Muras use  the finest of materials in their papers, printed on 150gms non-woven substrate these are beautiful wallcoverings that epitomise opulence and luxury.
Prestigious Textiles – In The Picture Collection – Edition
This bold multi-width stripe design Edition is definitely a statement wallpaper. Available in 5 neutral toned colour variations.
Examples Of Decorating With Striped Wallpaper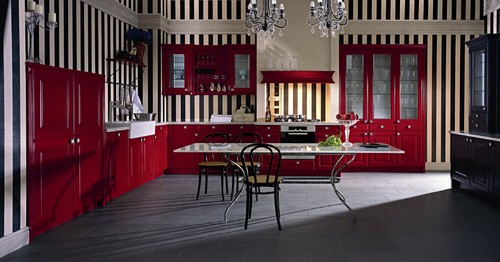 Wallpaper Gold Coast and Brisbane – Black and White Striped Wallpaper Hung In Brisbane
We are wallpaper experts servicing the Gold Coast and Brisbane. We have installed hundreds of wallcoverings and are experienced in all aspects and all types of wallpapering from residential to large commercial installs.
Below is a recent installation job we did using black and white striped wallpaper for a feature wall.